Deluxe Apartment
–
Moscow was chosen as the location for Luxxu's Newest Deluxe Apartment mainly due to its vibrant nature, but also for being a beacon of quality in today's design scene. In order to meet the design standards of the city, LUXXU had the ambitious task of providing an exciting yet relaxing environment that stands the test of time and conveys contemporary luxury in its finest form. Join Luxxu Blog as we give you a room-by-room showcase of this brand-new deluxe apartment in the heart of Moscow.
Ready to admire Luxxu's new apartment?
A Deluxe Hallway Like No Other
Upon entering this house, one is bestowed by a sublime hallway decoration, comprised of a trinity of high-quality designs that showcase exquisite craftsmanship, from the Suspicion console, a daring piece that fills any room with lavishing luxury to the Gold Darian mirror, a simple yet unique item that captures the functionality of a mirror and the splendor of a work of art. Both pieces receive smooth lighting from the Tycho small wall light.
An Exquisite Wine & Dine Experience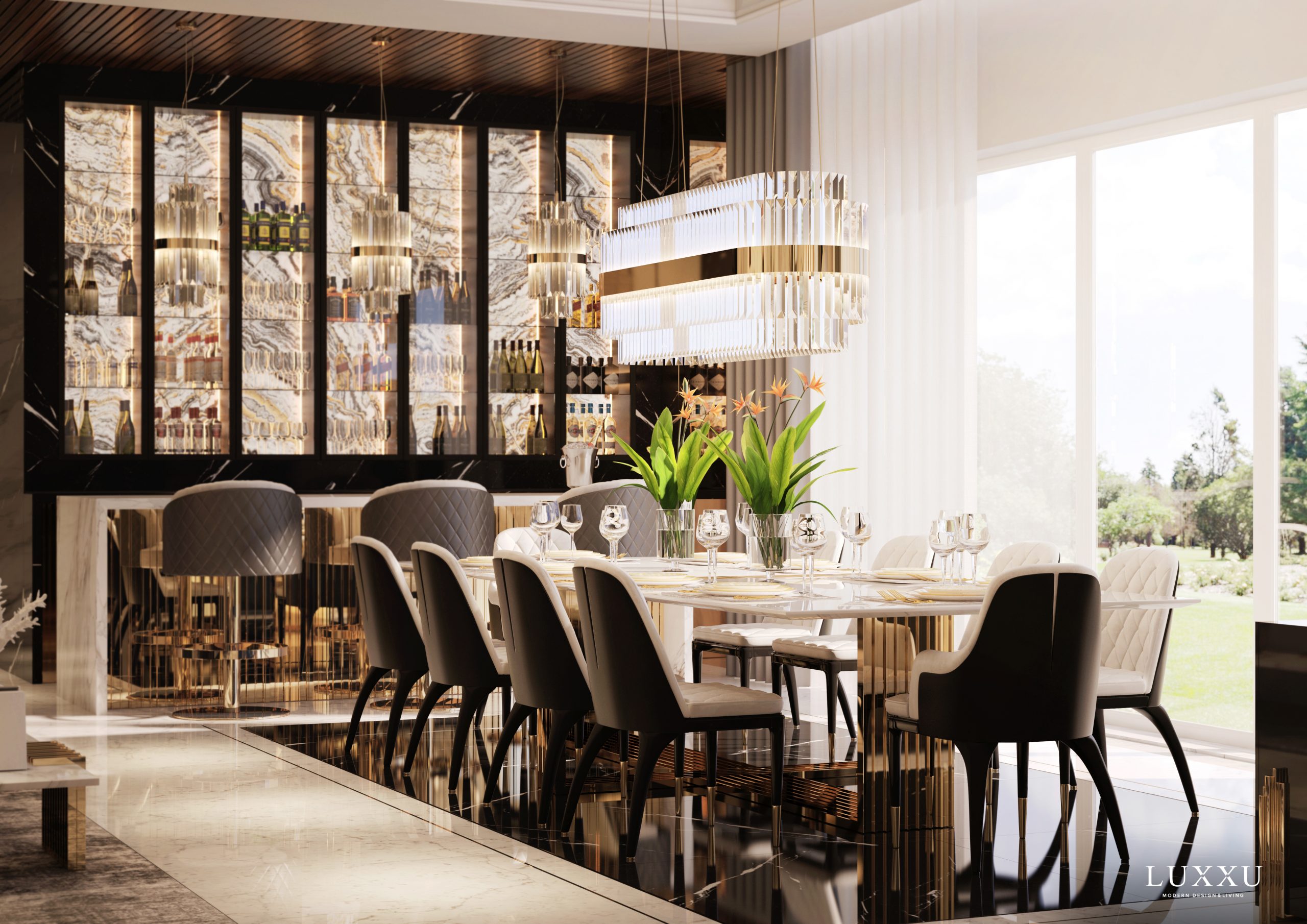 LUXXU introduced an open space that shares both a bar and dining area, in which the transition between spaces flows seamlessly and one can also enjoy marvelous views of the outdoors. In the dining room, the brass and crystal glass accents of the Liberty Snooker suspension pair flawlessly with the boundless elegance of the Charla dining chairs, whose timeless lines and modern structure are further complemented by the complexity of luxurious materials, such as velvet, brass, and lacquered wood. Moreover, the Vertigo dining table was the chosen centerpiece for this setting, a design that exhales luxury and style in its purest form.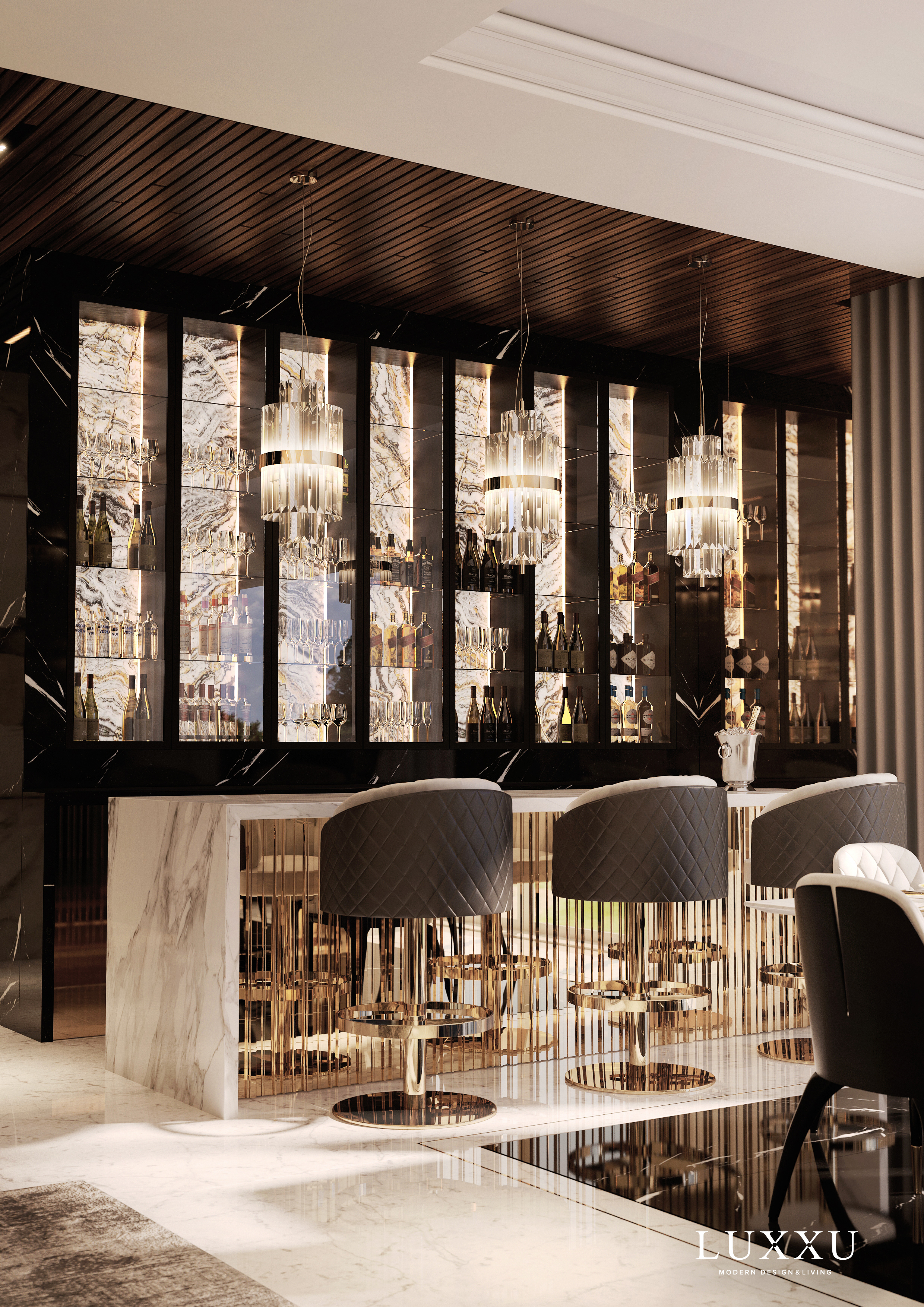 Maintaining a cohesive decor throughout, the marbleized bar space highlights a bespoke bar installation headlined by the Otto Swivel bar chairs, which in turn offer all the comfort and sophistication needed to have an embellished interior. The Liberty lighting pendants offer a majestic glow, and they will certainly become the topic of conversation over a cocktail.
The Innovative And Luxurious Living Spaces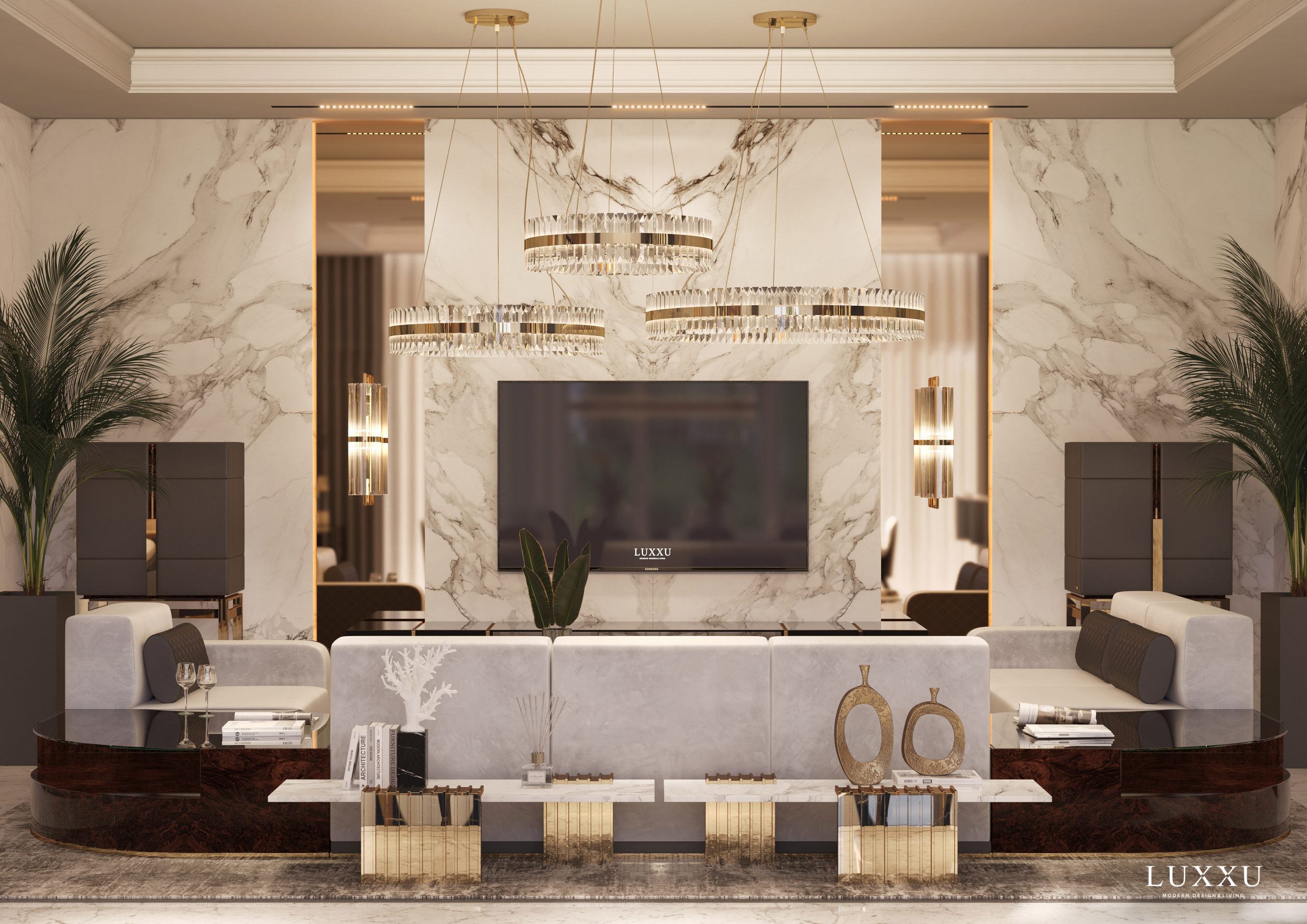 Neutral tones are rather timeless and have been in vogue for quite some time now. They become the theme of this luxurious living room setting that combines a modern design language with a sophisticated color palette that evokes a charming aura throughout.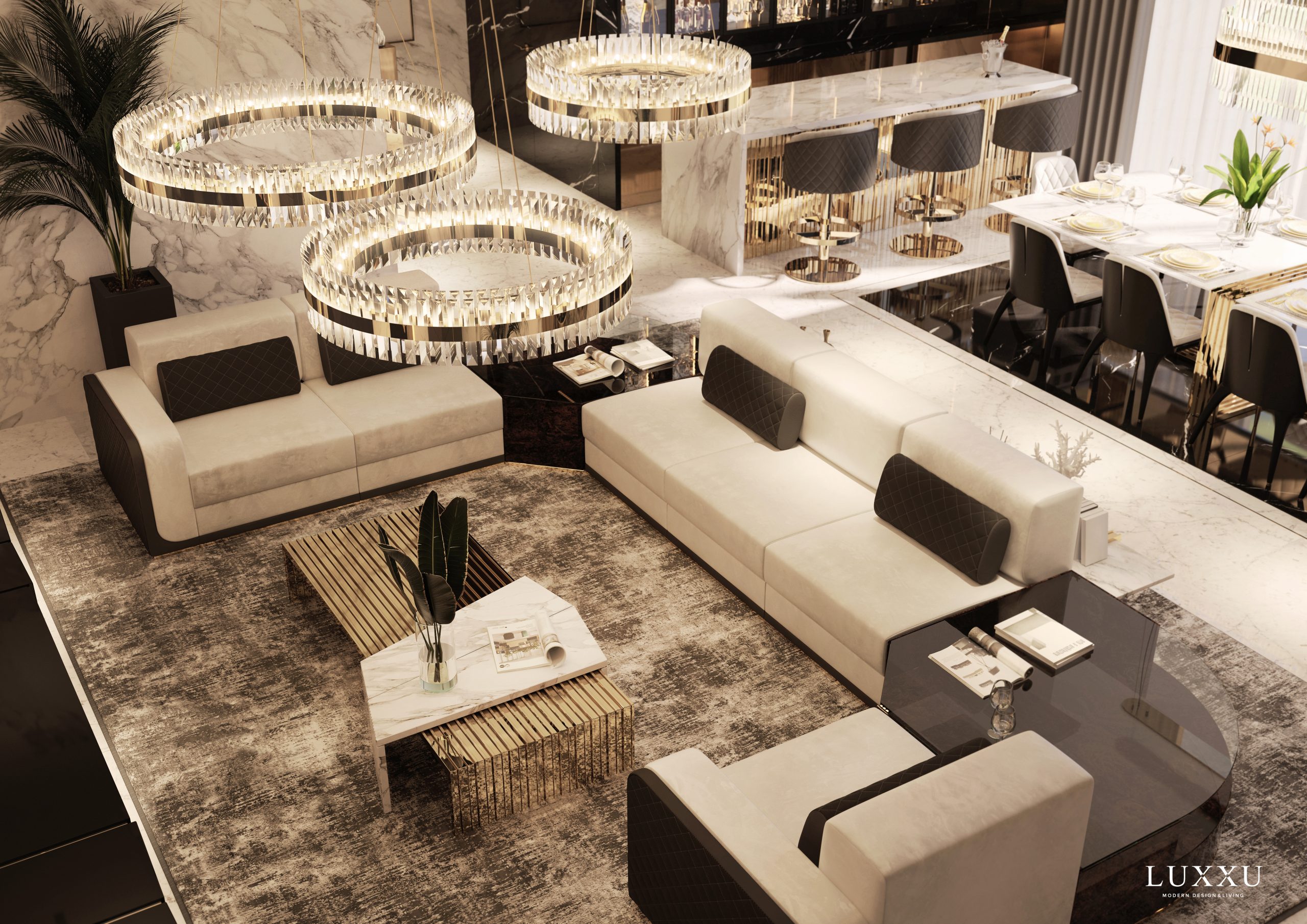 This modern ambiance has the perfect color scheme, combining the dark wood and off-white from the Thompson sofa, a new modular piece by Luxxu, with the soft crystals from the Liberty Slim suspension. For a grander fit, LUXXU added another set of new pieces like the custom-made Mayer center table and the Darian tv cabinet, impressing with the symphony that the whole project contemplates.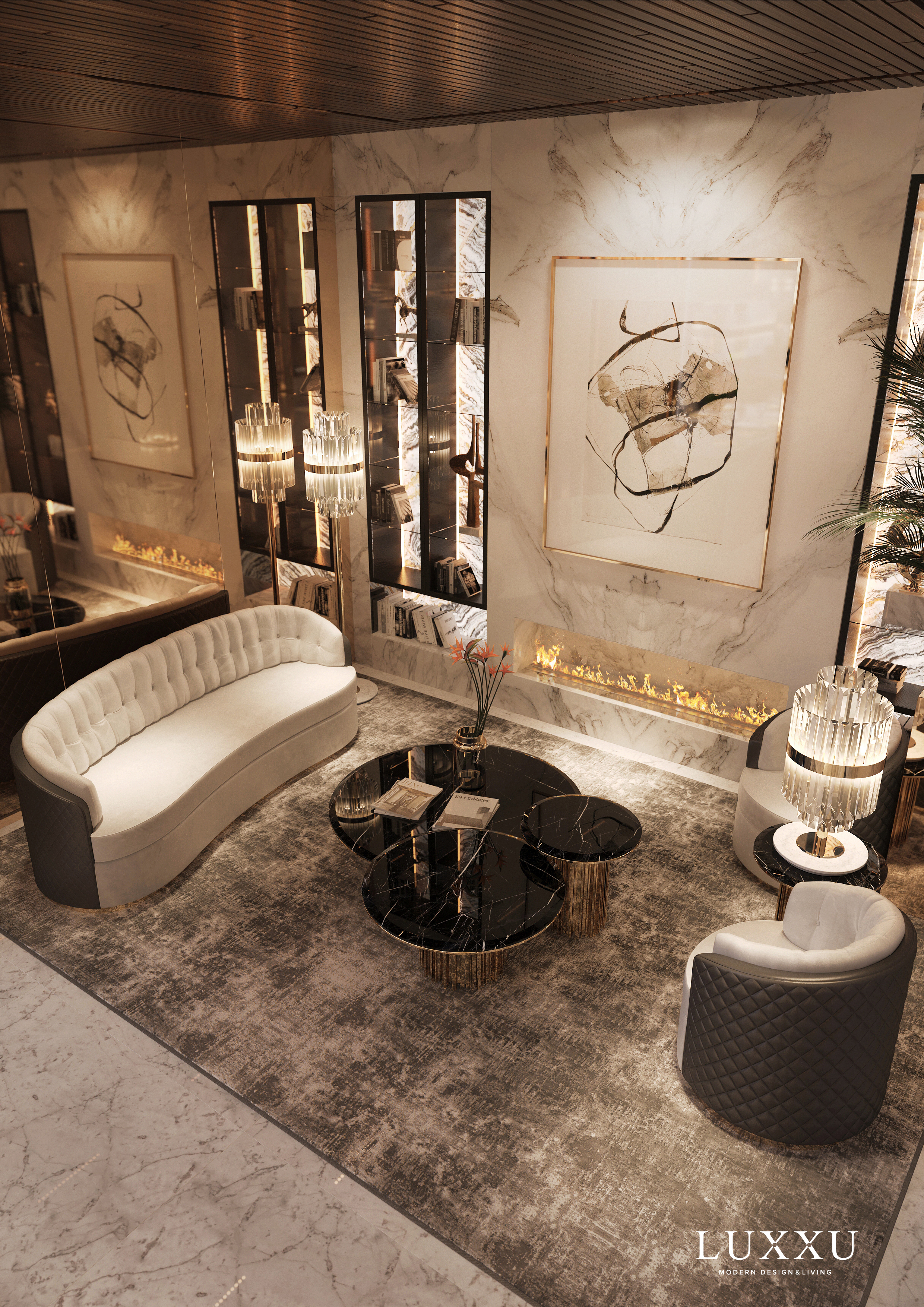 In a more secluded area, the new Otto sofa and Empire Set III center table complete the look and lead the way to a more intimate conversation.
Did you enjoy this article about Luxxu's Newest Deluxe Apartment ? Feel free to comment and share!
YOU MAY ALSO LIKE: